Sebastian Bianco
Contemporary visual artist | Argentina
Sebastian Bianco
Bianco is an Argentine contemporary visual artist, who after graduating from the National School of Fine Arts in Buenos Aires moved to Patagonia, where he found the inspiration to start his career in painting and woodcarving, then, after a journey full of cultural exchanges, influenced by the Latin American heritage, participating in sculpture symposiums, and exhibitions in several countries around the world, he discovered Pietrasanta, a famous art town at the foot of the Marble Mountains, Apuan Alps, in Tuscany, Italy, where he established his studio, never ceasing to learn and produce. His works are in several private collections around the world.
The concept of evolution is essential to Sebastian's work, and as a consequence, it serves as a metaphor for change, since the forms he creates explore the transformation of humankind.
These modern three-dimensional designs contain an asymmetrical and dynamic structure expressing anthropological forms that explore organic worlds in an energetic way. Raw textures contrasted with smooth surfaces emphasize the strong particular message of each unique piece. His sculptures are influenced by ancestral heritage and yet foreshadow the future.
The mystery of the abstraction of organic forms, therefore, is akin to adaptation to the environment. It is with this stance that the Argentine sculptor uses sustainably sourced stone recovered from the quarries, factories, and marble-cutting workshops found around the area where he established his studio.
Bianco's initiative traces the paths that man takes to overcome the risks of his extinction and, with special emphasis on form, aims to give content and balance to the abstract and concrete aspects of human existence.
Motivated by the magic of the origins of art, he tries to connect and create from the underlying nerves, where man found in his beginnings his way to express himself. In this context, he interprets a classification of the natural world, where he aspires to give the material the possibility of revealing new experiences.
This act is the result of a long research process, and a solid and determined artistic production, based on a persistent practice, even in several different materials, which he believes is the best way for a personal development, creating as a final result a communicative and aesthetic work of art, full of curiosity and mystery. He believes that art should be the result of deep experimentations, which should manifest the feeling that the artist needs to create. His intention is to search further, as in the origins of art, for existential revelation.
Through his work, he hopes to encourage people to question our place on the planet, with the benefit of offering a new path for the journey of our spirit, as that is what he himself seeks, wishing that this feeling is possible for each viewer.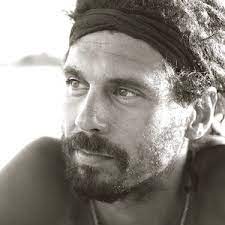 "Art arises from humanity as humanity arises from art"
— Bianco Sebastian
"The chisel might forget, but not the marble"
— Bianco Sebastian
Artworks by Sebastian Bianco