Jürgen Fux
Contemporary art | Austria
Jürgen Fux
In 1975 Jürgen Norbert Fux was born into the world in Anif near Salzburg, Austria, which he would later enrich with many intuitive creations. Today they are exhibited in galleries around the globe and each of his cycles has achieved cult status. Yet his approach is not a conventional one: portrait photographs are broken up and the raw material beneath them is shown. The true self, the deepest inside of the human being is brought to the surface, which then, in a complex process, become prints of very special value.
" My works live. For only from life itself, art can arise. "
Fux is a man of many sides. He knows how to inspire, with his esprit, his verve, his agility and eloquence while keeping his feet firmly on the ground. His view of the world is never sublime or even aloof. Rather, he knows how to use techniques and colors to draw the viewer into a world that quickly creates an addiction and is demanding more. His works are always exciting and depict sides of life that nobody or only a few dare to enter.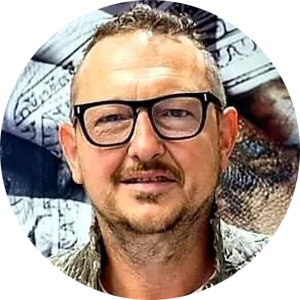 Jürgen Norbert Fux produces about 30 pictures per year. His portrait photographs are at the centre of the pictures. The image is transferred to a canvas and in the artistic process a complex procedure takes place. Color is being applied to the picture, photographed and printed.
This process is repeated until the so-called "mother" of the new cycle is being created. She will never be sold, as common in any good family. From her, the first picture is then created, the original: printed on glass and framed in stainless steel. This is followed by nine canvas art prints, the sizes of which can be made individually for the buyer. The high stability of value of the pictures is achieved by the small edition of a maximum of ten pictures per cycle. There is no Fux in mass production.
The digital printing of the pictures is done by the artist himself. And Jürgen Norbert Fux never stops trying to find new ways for even more color brilliance and 3D impressions. But not only the profundity and production of his works stands for the speciality of the artist. You can recognize him by his barcode in every picture. He makes his works unique.
Whoever buys a "barcode" can be sure: everything comes from one source.
With Jürgen Fux, this is not a nice advertising slogan, but a living reality.
Museums
MoCA Beijing / Folklore Museum Vienna / Museum Kempten /
Bavarian State Parliament, Munich (Orangery)
Vienna Imperial Palace
art fairs
ART Expo New York / Red Dot Miami / Scope Miami / ART Fair Cologne
ART Basel Hong / Kong ArteFiera Bologna / Art Beijing / Art Shanghai / Art Salzburg
ART Innsbruck, ART Bodensee…
Exhibitions austria
Cultural castle Walpersdorf / castle Gmunden / cultural house Schwanenstadt
Caverns Salzburg / Gallery the beautiful Vienna / Bachschmiede Wals
Bad Ischl, Gallery Walentowski, Gallery Steiner, Gallery Am Hofsteig, ……….
Exhibitions Europe
Bremen / Hamburg / BMW Pavilion Munich / St Gallen / Zurich / Frankfurt
Madrid / Berlin, Mijas / Valencia / Marbella / Mallorca
Saint-Tropez, Malta, Milan, Turin …
Exhibitions in rest of the world
Miami / New York / Houston (all USA)
Toronto / Hong Kong / London / Abu Dhabi / Beijing, ...
Purchases from countries
Austria, Germany, USA, Canada, Mexico, Venezuela, Portugal, England, Spain, France,
Switzerland, Italy, Turkey, Hungary, Netherlands, Russia, Bulgaria, Greece, Israel,
United Arab Emirates, Jordan, Egypt, Madagascar, India, China, Japan, Thailand
Represented by galleries in:
Austria / Italy / Spain
Representations in:
Israel / Switzerland / Liechtenstein / USA