Icon Zar
Visionary artist | Russland
Icon Zar
Icon Zar wurde während der Sowjetzeit in Moskau (Russland) geboren. Das hin und her zwischen Eislaufen, Ballettunterricht und Gesangsunterricht ließ sie erkennen: " Kunst ist ein mächtiges Werkzeug für soziale Veränderungen "
Unter dem Einfluss von alten Hollywood-Filmen, Coca-Cola und Pop-Amerikanischer Kultur, Disney-Animationen, Kommunismus-Propaganda und russischen Folkloregeschichten formte sie ihre Zukunftsvision von "Making a world a better place"
Sie beschreibt sich selbst als "The Last Daughter of Russian Communism and Rebel at Heart."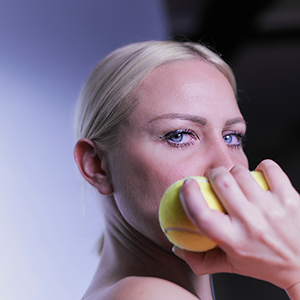 Ihre Kunst ist in 9 verschiedene Perioden unterteilt: ROT, BLAU, WEISS, SCHWARZ, GRAU, PINK, GOLD, GRÜN und VIOLETT. Jede Periode hat Reflexionen über politische Veränderungen in der Welt für diese Zeitperiode. Ihre Kunst befindet sich in vielen Sammlungen auf der ganzen Welt, darunter in den USA, Frankreich, Italien, Belgien, Holland, Irland, Großbritannien, Russland, Japan und Spanien. Durch die Zusammenarbeit mit Wohltätigkeitsorganisationen, Stiftungen und Umweltorganisationen wurde ihr klar, wie tägliche Konsumgewohnheiten einen großen Unterschied in der Welt bewirken können und " There's No Planet B "
She left Russia after the collapse of Soviet Union, facing democracy chaos, she went to Spain to "live a better life".
In Palma de Mallorca Icon Zar found herself as a true artist, inspired by light, Magical Paradise Island and historical spirit of the past, specially from 19 century. Her desire to become a movie director takes form of Russian Mediterranean artist, where each of her Art Periods has a story to tell and new challenges in colour.
Her Art is divided into 9 different periods: RED, BLUE, WHITE, BLACK, GREY, PINK, GOLD, GREEN and VIOLET. Each period has reflections of political changes in the world for that period of time.
Working with charities, foundations and enviromemtal sea organizations made her realised how concuming daily habits can make a big difference in the world and "There's No Planet B".
" Ask not what your country can do for you, ask what you can do for your country."
John F. Kennedy
Her art is in many collections around the world like USA, France, Italy, Belgium, Holland, Irland, UK, Russia, Japan and Spain.
She lives and works between Moscow, Palma de Mallorca, Ibiza and French Rivera.
Upcoming project: Seahorses ( Caballitos de Mar ).
" I paint now seahorese, because I affraid that in the near future they will dissepeared and our children will forget how beautiful they are!"
( Artist statment ).
P.S. If you would like to know more about Icon Zar, we recommend you to check our online book and read her artist statment.
2007 CARTOIXA VALDEMOSSA (CHOPIN HOUSE) - MALLORCA.
2007 GABRIEL VANRELL GALLERIA D´ART. - MALLORCA.
2007 PROJECT: "FIREBIRD". MISERERICORDIA. CONCELL DE MALLOCRA (DEPARTMENT OF CULTURE, COLLECTIVE EXPO) – MALLORCA.
2007 NIT D ´ART (ASSOCIATIONS OF INDEPENDENT GALLERIES) BALEARES – MALLORCA.
2007 EXPO IN BANKER HOUSE, MALLORCA.
2008 EXPO IN GRAN CASINO – SPAIN.
2008 EXPO IN ART GALLERY CLAUDIO FONDY – ITALY.
2008 COLLECTIVE EXPO (VIA MARGUTTA )ROME – ITALY.
2008 EXPO GALLERY PUNTO ARTE, NAPOLI - ITALY.
2008 EXIBART MECS VILLAGE, ROME – ITALY.
2008 RUSSIAN ART WEEK, KANDINSKY PRICE – RUSSIA.
2009 MOSKOVSKIY DOM KHUDOZHNIKA. COLLECTIVE EXPO, MOSCOW.
2010 D.E.V.E GALLERY. COLLECTIVE EXPO – MOSCOW.RUSSIA
2011 THE CENTRAL HOUSE OF ARTISTS. COLLECTIVE EXPO – MOSCOW.RUSSIA
2013 GARBRIELL VANRELL GALLERY D´ART. "PROJECT POP BABYLON" – MALLORCA.
2013 COLLECTIVE ART EXPO AT MOOD BEACH, PORTO PORTALS – MALLORCA.
2014 "ART COCKTAIL" EURASIAN FOUNDATION FOR THE SUPPORT OF ART." BRUGES – BELGIUM.
2015 GABRIELL VANRELL GALLERY D´ART. PROJECT "7 CONTINENTS" COLLABORATION WITH PHOTOGRAPHER OLIVER BRENNEISEN AND MICHELIN STAR CHEF MIGUEL SANCHEZ ROMERA, PALMA – MALLORCA.
2015 NIT D´ART – IBIZA
2015 GALLERY N12. PROJECT "BREAKING STEREOTYPES" – MALLORCA.
2016 CENTRAL STUDIOS, BENISSALEM – MALLORCA.
2016 COLLABORATION WITH GERMAN PHOTOGRAPHER OLIVER BRENNEISEN.
2017 GLOBAL ART FAIR, AMSTERDAM – HOLLAND.
2017 LA NAPOULE ART FOUNDATION. ARTIST IN RESIDENCE – FRANCE.
2018 PUSSI PROUD, EXPERIMENTAL PROJECT ON INSTAGRAM.
2018 CHATEAU DE MARCILLONES. "THE SKIN I LIVE IN" – FRANCE.
2019 TEMPLE GALLERY "ICON ZAR, TRIGGER ZU", PALMA - MALLORCA
2019 GABRIEL VANRELL GALLERY. PROJECT: FRENCH CONNECTION IN COLLABORATION WITH JOYRON FOUNDATION, PALMA – MALLORCA.
2019 CREATING FLYING MOMENTS EVENTS/ ART PLATFORM. PROJECT: L.A.B. (LIFE. ART. BUSINESS.). CURATOR FOR INTERNATIONAL ARTISTS, UPCOMING FASHION DESIGNERS, PHOTOGRAPHERS, PERFORMING ARTISTS, BUSINESS / NETWORKING. PALMA – MALLORCA.
2019 NIT DEL ÁRT PERFORMANCE "ANGEL IN TOWN". PALMA – MALLORCA
2020 ARTIST RESIDENCE AT SON SARD. SON SERVERA – MALLORCA
2021 CABALLITOS DEL MAR - PERFORMANE "ALOHA" IN HMH GALLERY – MALLORCA
2021 ICONIC ART BREAKFAST - WHEN ART MEETS BUSINESS - SOCIALISING PROJECT IN COOPERATION WITH HMH GALLERY – MALLORCA
2022 NIT DEL ART IN SES SALINES - FIRST ICON ART MOVIE PRESENTATION "ANGEL OFGENOVA" - MALLORCA
2022 ICONIC EXHIBITION IN HMH GALLERY - MALLORCA
2022 FOUNDING ICONZAR ART AGENCY
2022 OPENING ICON ART STUDIO IN PALMA DE MALLORCA
ANGEL DE GENOVA was created as an Art Manifest against garbage left behind in many beautiful spots in Mallorca, especially in the lovely Genova Hill area, where artist Icon Zar lives.
Präsentationsvideos von Icon Zar
Ich befürchte dass Seepferdchen bereits ausgestorben sein könnten wenn unsere Kinder erwachsen sind.
Ich hoffe dass, wenn sie meine Seepferdchen in Ihren Räumen sehen, sie sich erinnern können welch wunderschöne Geschöpfe das sind.
The HMH Gallery is proud to announce a collaboration with one of the artists we represent- ICON ZAR and the RANA Foundation. Icon Zar's work is fanciful, exuberant, funny and she has generously agreed to donate a porcentage of the sale of her artworks form Seahorses project ( "Amore" , Caballitos de Mar ) during the month September / October to RANA which has been working for over 15 years in the Balearic Islands to prevent child sexual abuse, something that will affect about 1 in every 5 children.
We hope you will participate and support this worthy cause.
Visit our page on www.fundacionrana.org to learn more about this important work.
7 CONTINENTS
CULINARIC DNA
Eine kulinarische Reise um die Welt, in welcher Kunst und Wissenschaft mit feiner Fotografie verschmelzen.
MELTING ICEBERG
ITS GETTING WARM ON PLANET EARTH