H.R. GIGER
Contemporary art | Switzerland
H.R. GIGER (1940-2014)
Hans Rudolf (Hansruedi) GIGER was a visual Artist, Painter, Sculptor, Designer, Architect and Oscar winner.
He was born in Chur on February 5, 1940 lived in Zurich as a freelance artist from 1962.
He explored emotional frontiers - stories and incidents with erotic or macabre Content that forms the basis for his surrealistic dreamscapes.
As the creator of the film character "ALIEN" he received in 1980 an Oscar in the category "Best Achievement for visual effects".
For the film "Species" he created a train model and the female film character "Sil".
He created multiple award-winning album covers and in 1998 his first illustrated novel "The Mystery of San Gottardo" was published.
In the same year he opened his yet present museum in Gruyères / Switzerland.
The GIGER MUSEUM in Gruyères / Switzerland is the main representation and art management of H.R.GIGER.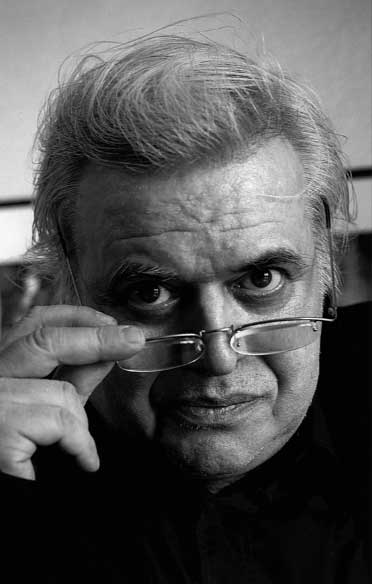 EXHIBITIONS IN HMH GALLERY
The art of Nightmares        Solo Exhibition        01.04.2022 - 30.09.2022
H.R. Giger                            Virtual Exhibition        23.12.2022 - 31.12.2025
Crescendo                            Group Exhibition        10.03.2023 - 20.03.2023
Le gran bleu                         Group Exhibition        27.07.2023 - 14.08.2023
The last Necronom still owned by the estate, created during Giger´s lifetime.
The work is for sale, but then the Giger Museum need to be allowed to borrow it for the next exhibitions, until the Estate has the next one available.
The Harkonnen Chairs are a series of H. R. Giger's furniture designs. They were manufactured by hand chiefly out of aluminium or black fiberglass and made to resemble a human skeleton. The chairs were initially designed for an unproduced movie version of the 1965 Frank Herbert science fiction novel Dune that was to be directed by Alejandro Jodorowsky in the 1970s.
The series consisted of a regular chair and a more elaborate "Capo" chair intended to be used as Baron Harkonnen's main chair. The most prominent feature of the Capo Chair is a crown of three noseless skulls stacked on top of each other in a column above the back of the chair. This feature is what distinguishes the Capo Chair from regular Harkonnen Chairs, which lack the triple skull crown as well as armrests.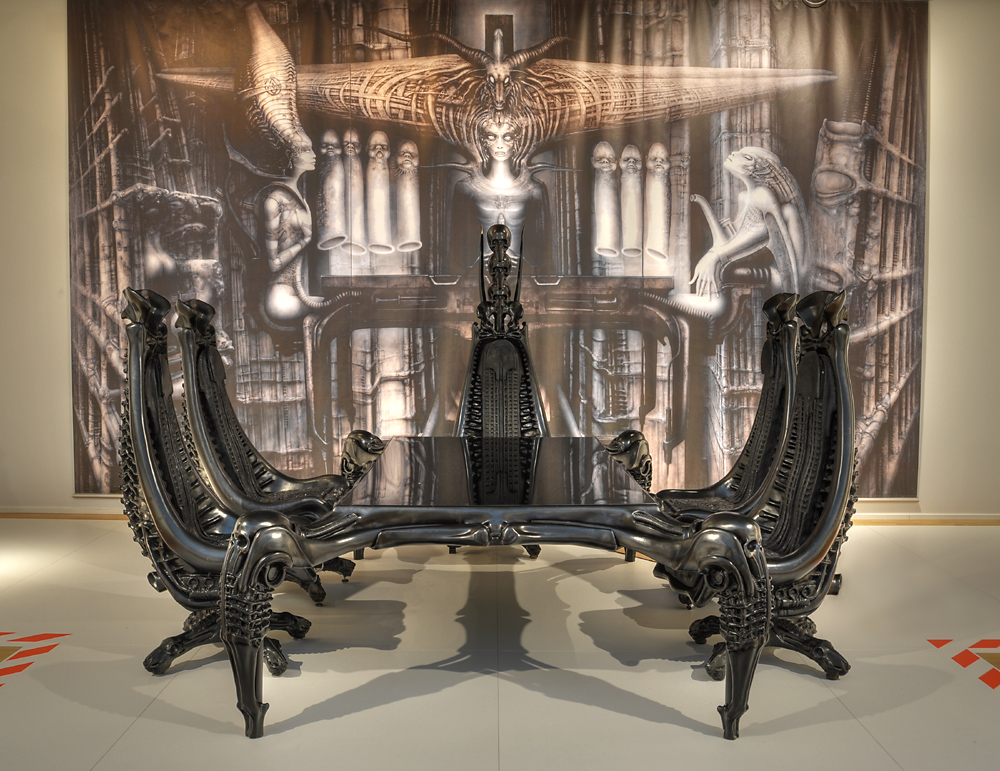 This floor plate is in good condition, according to it's age.
The floor plate is from the original batch of a small number of floor plates made for the floor of the HR Giger Bar in Chur, in 1991.
A few more were produced, than needed for the floor at the bar. Only a few are in good condition, plus those with some small imperfections were left over and sold later on as single floor plates. Later on, some of them have been professionally polished to be better used as single pieces of art, instead of it's original use as a floor plates.
This eventually still has some small imperfections, like all of them have.
This one is one which was in mint condition, and has been sold as single piece of art, hence the wooden frame, made back in the early 1990's.. it's not one of the left-over's with flaws, as most of them who occasionally pop up..